Custom Paintings - From Concept to Creation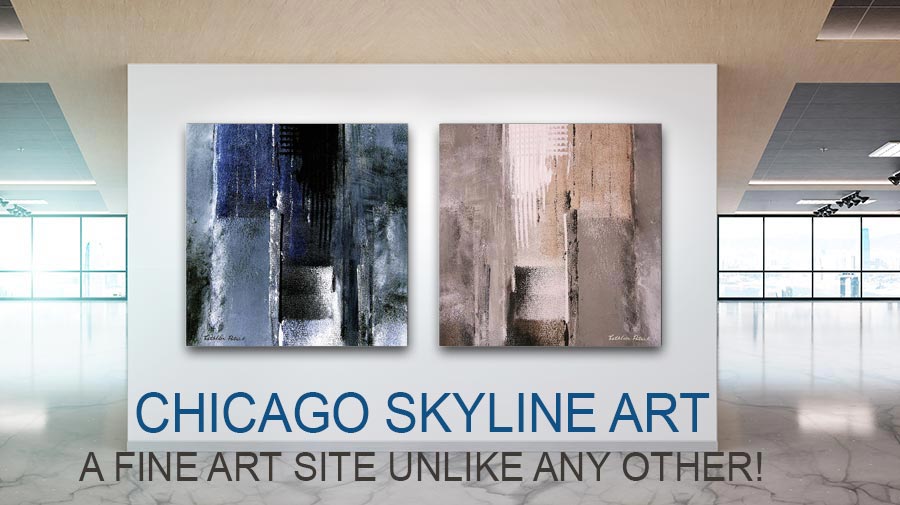 Let's get started today!
Bring your vision to life with one of our custom paintings! We offer limitless possibilities and styles, so you can have the perfect painting.
We've crafted custom artwork for clients all across the US, including top companies like Starbucks and Bank of America - let us help you make your dream artwork a reality!
Now's a Great Time Order a Custom Painting!
Maybe a painting of Chicago. Or a custom painting of any cityscape!

It could an abstract painting! Personalized to your setting.

Or a Cubist-inspired wine and music painting!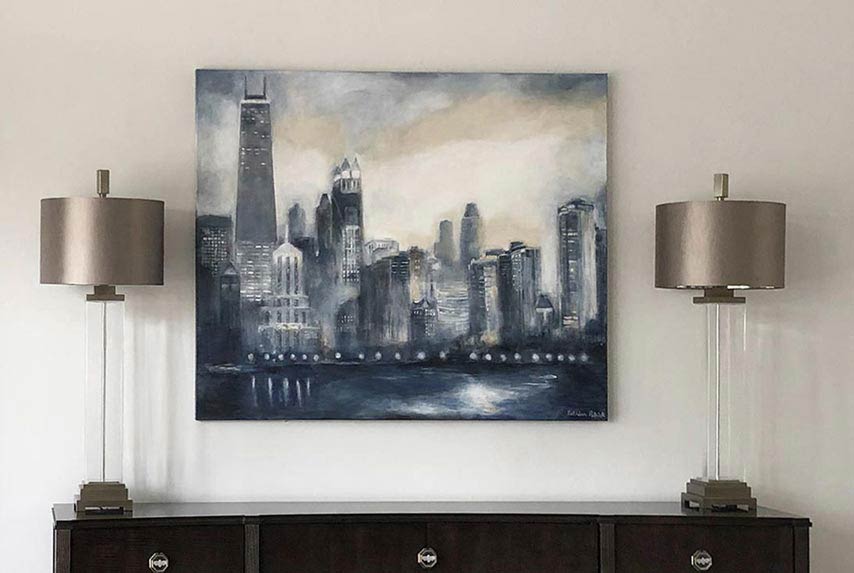 Custom Paintings of the Chicago Skyline... or Any City.
For this 48 x 60 commissioned cityscape, the painting included requested features from several of our Chicago paintings. It also included specific photos from the client.
Is there a particular view of Chicago that you love? Send us a photo and it can be used for the design of your painting if you like.
And this goes for any great city - New York, San Francisco, London, Paris, Hong Kong. You get the idea!
See the large collection of our Chicago Skyline Canvas Prints for ideas you may want for a commissioned painting.
And remember, you can commission any city you'd like!
Find Out More About Chicago Skyline Custom Paintings >
From Abstract to Pictorial Cityscape Paintings
"Center of the City" by Kathleen Patrick

Cityscape paintings can range from the very abstract to pictorial, and customized to your color palette.

"In the Mist" by Kathleen Patrick

You can add an urban element to your home or office with a skyline painting!

"Oak Beach Skyline" by Kathleen Patrick

Select from bold to neutral colors for your custom cityscape painting.
Commission a Mixed Media Painting
For this custom travel painting, the artist selected photos from a list of a couple's favorite places. These photos were based on their extensive worldwide travels.
This is a great style that can be used for commissioning a painting. Your painting can incorporate your own photos, and/or photos collected by the artists to suit your theme and subject.
There are so many subjects you can choose from:
* Your favorite sports team.
* Travels.
* Favorite music, movies or authors.
* Your family's history or business milestones.
* Concepts like time, money, nature, philosophy.

"We LOVE IT!  Can't wait to hang it! Thanks so much.  We love your work!" Sue L.
 
Find Out More About Mixed Media Custom Paintings >
"Jazz and Blues", a mixed media music painting

"At Last", a mixed media sports painting.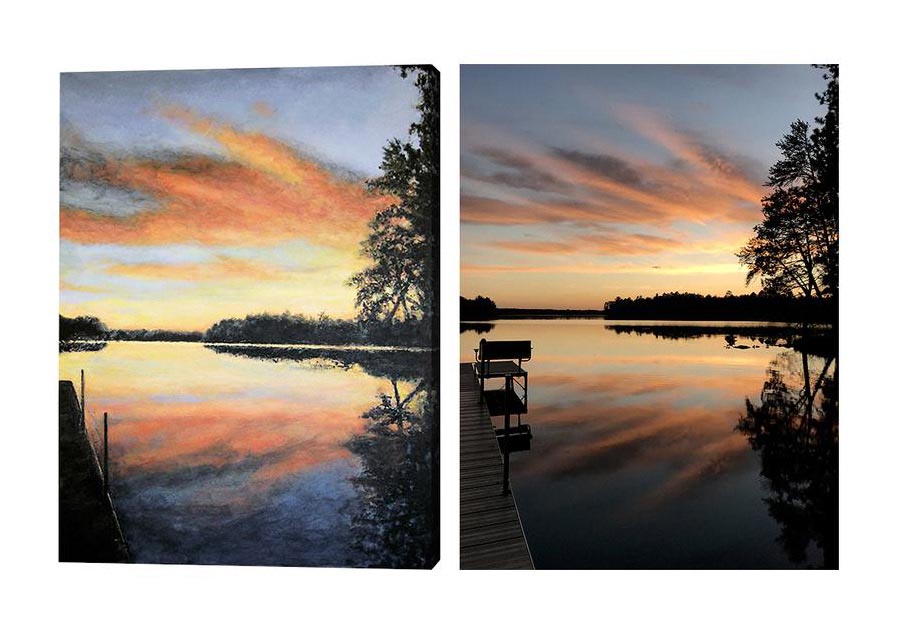 Custom Landscape Paintings - Based on a Photo
Order a painting from a photo; maybe it's your favorite place, from your travels, or even a beautiful sunset you captured on your phone.
"This was our 7th piece we bought. Another great custom artwork from Chicago Skyline Art - well done! My wife loved the landscape painting. Thank you so much!" - Tim R.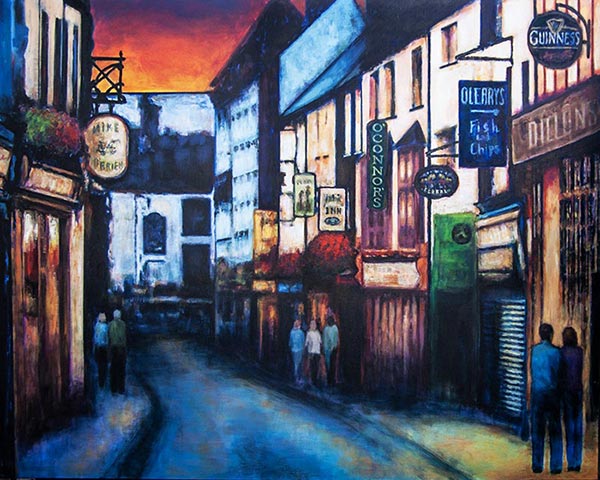 Capture a Special Place with a Custom Painting
Our art commissions have ranged from a street scene in Ireland, to a painting of Chicago's Wrigley Field at night, and even the New York Harbor and Statue of Liberty. 

You can either provide a photo, or have the artists find images and make suggestions for the custom artwork.

"Amazing." - Brian M.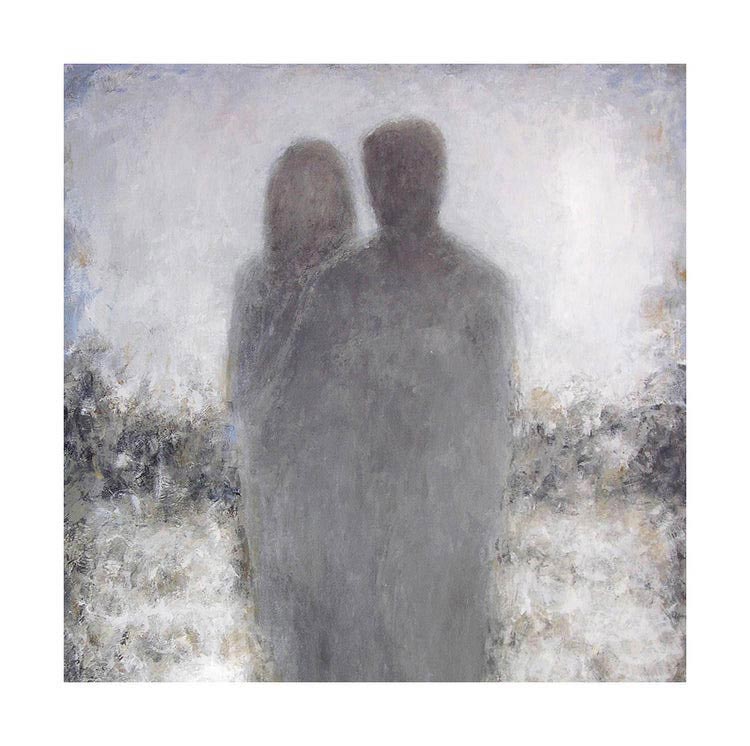 Order A Romantic Couple Painting
It can be a painting of the two of you. This option is a silhouette of the two of you, from the back. Just send us a quick phone photo. Your basic height, shape and hair style, etc. will be included. 
This is a popular choice - a truly unique personalized painting!
Find Out More About Romantic Custom Paintings >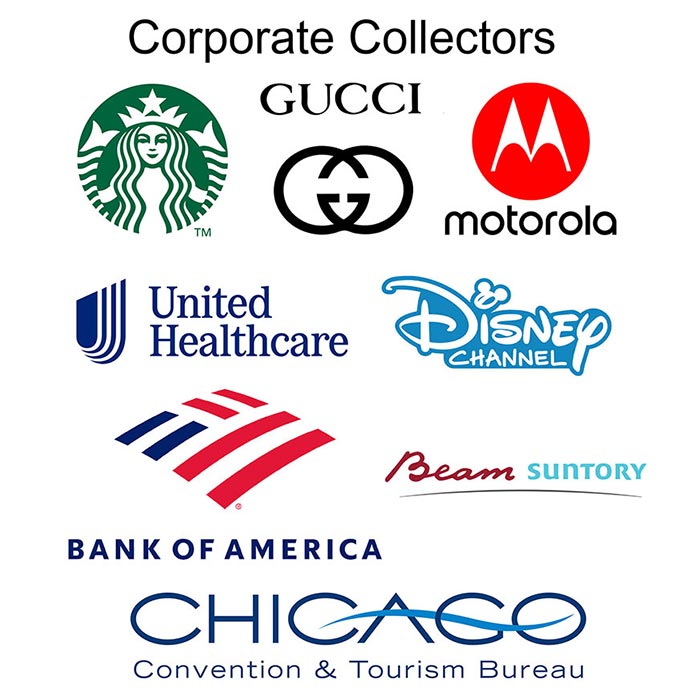 Client Reviews
"I was frustrated not being able to find the style of painting and right color/size/price point I needed after looking a long time. Chicago Skyline Art made it very easy for me. I selected my style and colors and they created a gorgeous painting for my family room at a reasonable price. I would highly recommend them. I am very happy with my purchase and they were great to work with when working out all the details." - Jill C.
"We asked Kathleen to do a unique, custom Route 66 painting for us to finish off our rec room downstairs and highlight our vintage theme. The collage of items she selected matched perfectly along with the late 40's, early 50's style and colors we were looking for." - Tim R.
"We absolutely LOVE our custom painting! The whole process of creating it was wonderful. Joseph carefully listened to our vision of what we wanted him to create. He also frequently communicated with us regarding updates on our painting. The final product turned out better than we could have imagined! We frequently get compliments on our painting which is hung prominently in our home. HIGHLY recommend Chicago Skyline Art!"- Katherine C.
More Client Reviews >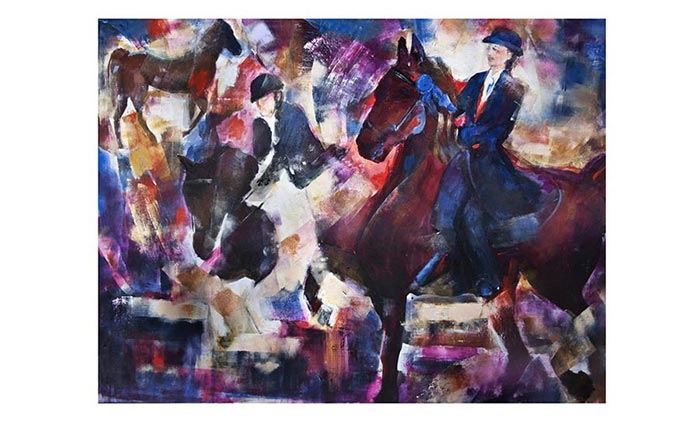 Custom Concept to Creation
"Taking the idea and concept of three photographs of my horses to a painted montage, was a delightful process. Kathleen interpreted my thoughts and feelings from a 20 year horse career to a memorable piece of art.
Highly recommend working with them to capture the essence of your feelings in art, for a piece you will proudly display." - Barbara S.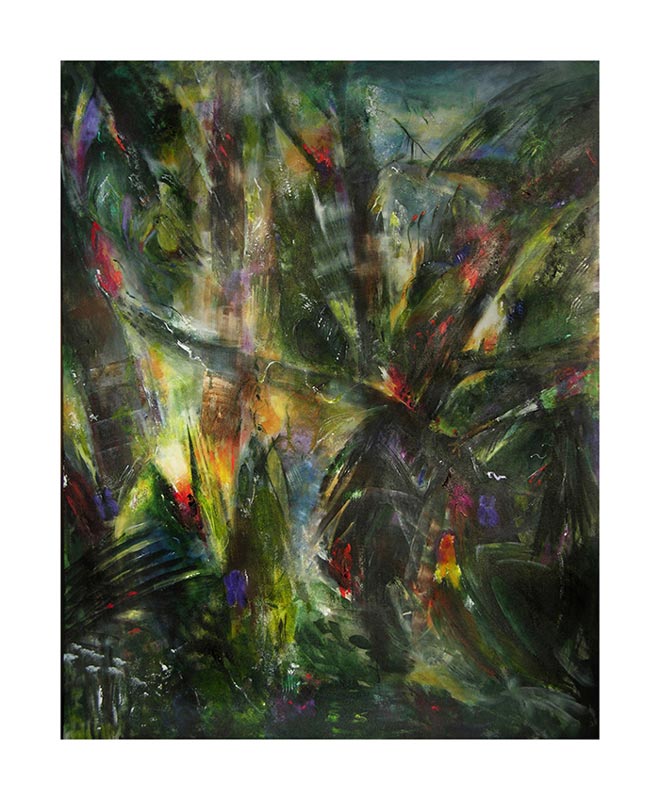 Popular Custom Art Sizes
18" x 24" __ 24" x 24"__ 24" x 30"__ 24" x 36"__ 30" x 40"__ 36" x 36"__ 36" x 48"__ 36" x 60"__ 48" x 48"__ 48" x 60"
We can create any size you want!

We've created paintings as large as 60" x 72", 60" x 96", and 72" x 150".

Diptychs (2 canvases) and Triptychs (3 canvases) are also available.
What's the cost for a custom painting?
 Each custom painting is as different and unique as the people who order it. So we individually price each painting. 
Price depends on size and the complexity of the painting.
 The general price range for a painting is:
18" x 24" ... $1200 to $1900
24" x 30" .... $1600 to $2200
30" x 40" .... $2200 to $3000
36" x 48" .... $2700 to $3600
48" x 60" .... $3900 to $5500 
-
Shown is a Custom Costa Rican Jungle Painting by Kathleen Patrick - now hanging in the client's home in Costa Rica.
Read more about our custom paintings >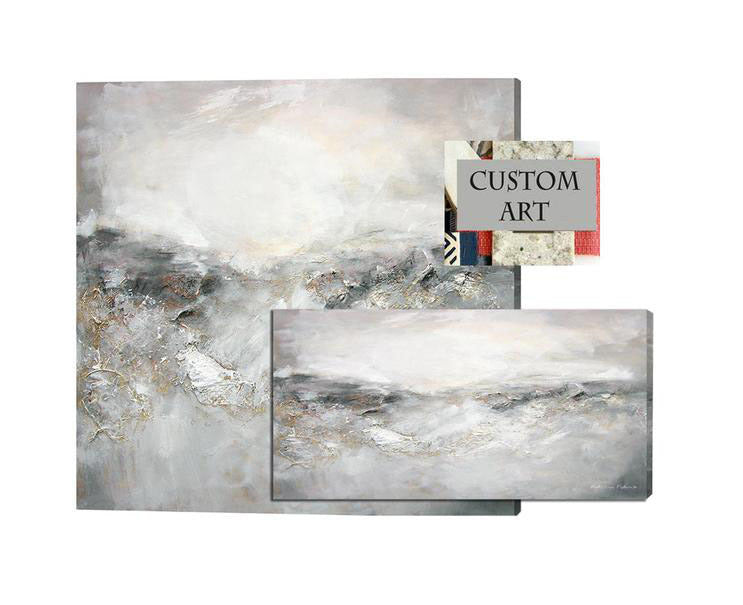 How do I commission a painting?
1. Call 312-292-7904, or e-mail us to discuss your custom painting. We will provide you with a price after our discussion.
2. We'll send you an invoice page with all the details that have been discussed. When everything meets your approval, you'll just pay the deposit through our website.

3. In @ 3 1/2 to 4 weeks, we will email photos for you to review.
If you request alterations, we will make them and send you a new set of photos.
4. Once you approve everything and have paid your balance, we will ship your painting.
We have an absolute - 100% Money Back Guarantee!
Custom Painting's FAQs >