Corporate Art - Custom Artwork for Businesses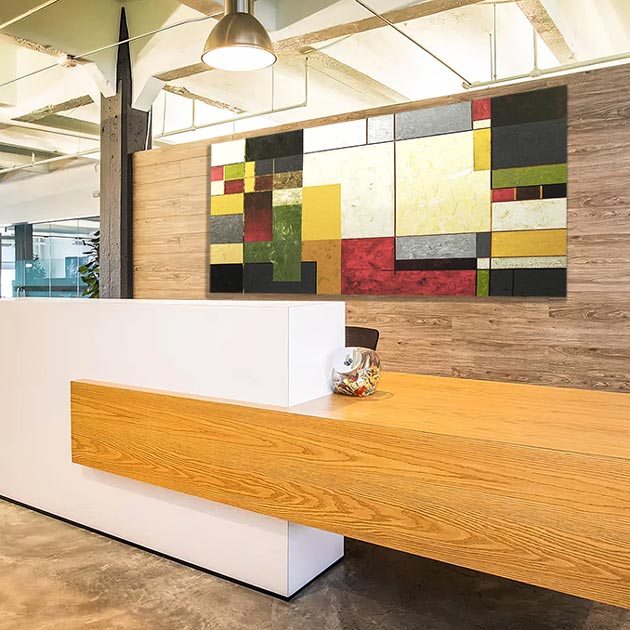 Where do you go to buy Corporate Artwork?
Right here! And have it custom designed and created. Whether it's a custom painting for an office or high-end art prints for an entire facility, we'll provide unique artwork to complement any setting. For over two decades we've provided accomplished contemporary artwork for corporations, businesses, and office suites.
Our clients include some of the largest corporations in this country.
We're very proud of our accomplishments with custom business art.
As professional artists and gallery owners for more than two decades, we've painted hundreds of original paintings. We have the expertise and the personal skills needed to complete your project, and exceed your expectations. That is our primary goal!
Call today! 312-292-7904.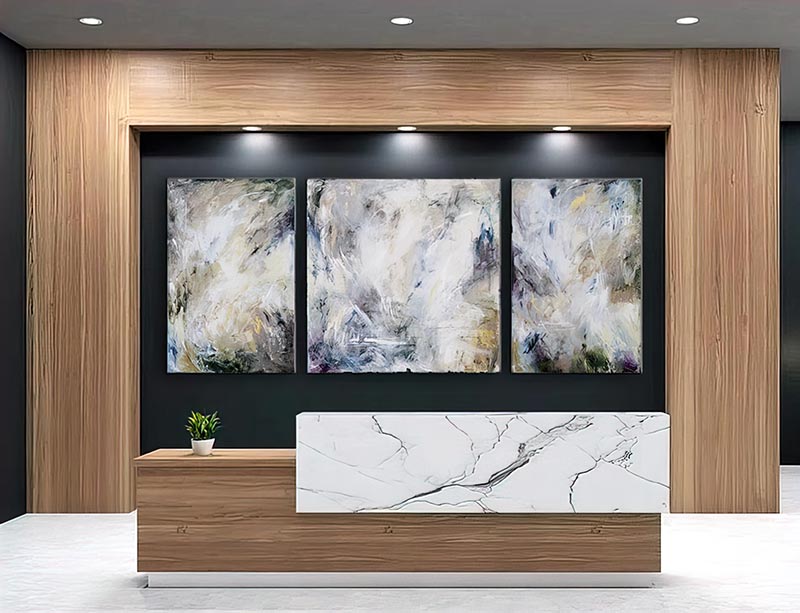 Browse the website; find ideas for customized artwork for your business.
One of the ways to get an idea for a custom painting is to go through our very large collection of prints.
You can choose from hundreds of prints in a wide variety of genres, selecting images that appeal to you.
Let the artists know your likes and dislikes. And what appeals to you!
Each commissioned painting is an absolutely singular work. !t's one of a kind!
Custom paintings and limited edition prints of the Chicago skyline are a forte!
In addition to the Chicago skyline canvas or framed prints, we also offer custom Chicago paintings. They're often inspired by the skyline paintings seen on our website.
Some clients have selected several of our Chicago paintings to use as a basis for a new skyline painting. Utilizing the particular images they've chosen, we create a totally one of a kind custom Chicago artwork for their office.
Do you have photos of Chicago or a view of the Chicago skyline that you love? An affection for a particular building in Chicago? These can all be used for the design of your custom Chicago skyline painting.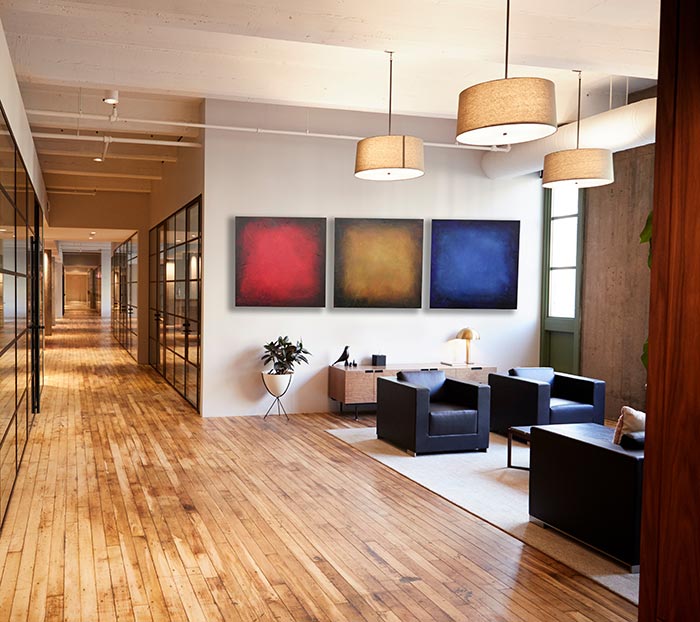 Commissioned Abstract Art Paintings
From the series entitled "The Light Within" - these textural, glowing pieces can be created in a vast range of colors, shapes and sizes. They can range from multiple squares or rectangles, to a large singular colored canvas.
You can use them to add life, color and radiance to an otherwise quiet area.
Custom works from this series have been done for both corporate and private collections.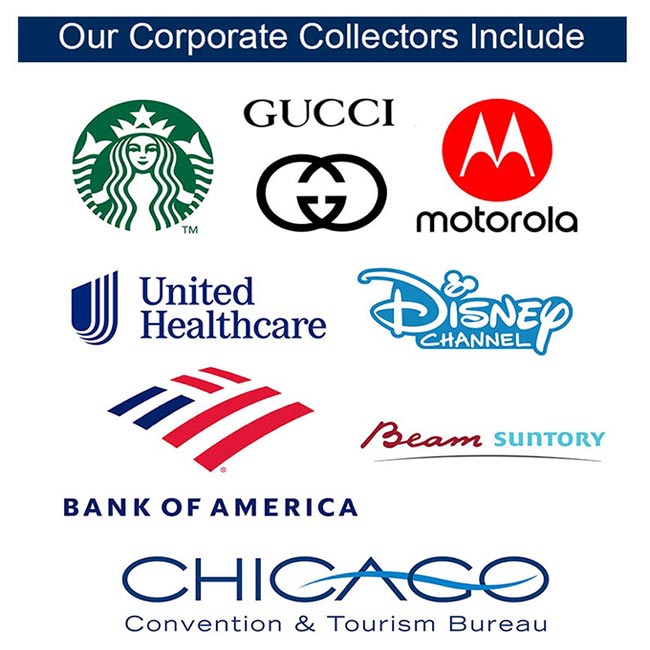 A Few Additional Corporate Art Collectors
US State Department

National Association of Realtors

University of Wisconsin

Leo Burnett Advertising

University of Illinois Healthcare

Long Beach Main Library

Dupage Children's Museum

Chicago Fire

Dominus Capital

San Diego Historic Properties
Custom artwork takes the highest level of artistic skill and personal interaction. We have specialized in developing these skills for the past two decades!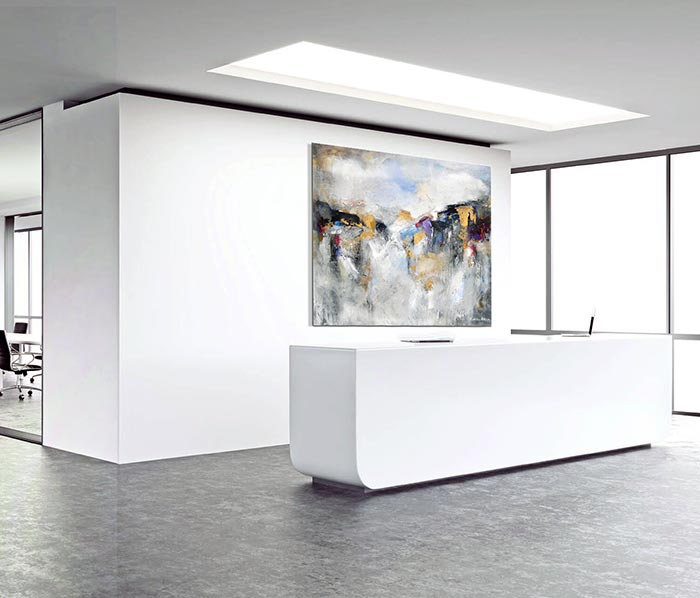 We create custom fine art that's tailored to your needs.
Landscapes are among the most collected artwork. In this piece, the artist mixed a bit of fantasy with reality to create a delightful hybrid. Metallic gold leaf foil was added too.
From concept to creation, we'll design unique art to complement any space. We're here to offer the best for your custom art project.
With more than two decades of experience, we'll create art that's sure to bring professional style and sophistication to your office or facility.
It could be framed abstract art for a hotel, acrylic prints for a national radio station, or original skyline paintings for a regional law firm.
Wall Art for a Bank Commission
We offer a particularly popular style of original custom paintings for businesses - banks, medical centers, and law firms.
This style of personalized artwork is based on a theme chosen by the client. It utilizes a "collage" technique of images, using pictures or photos.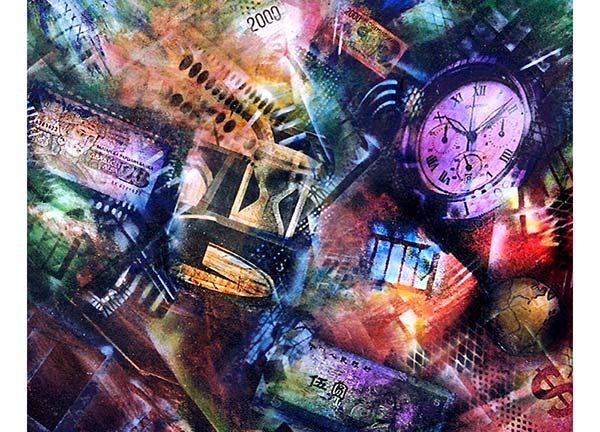 Detail for Bank Commissioned Art
For instance, a bank commissioned 3 large paintings with images about money, time and international currency.
What ideas, images and colors would you like to see in a painting? We're here, at your service to help you - to be your personal 'art consultant'.
Commissioned corporate art for this style often includes large multiple canvases. Photos, illustrations, and other types of images, can be provided by either the client or the artist.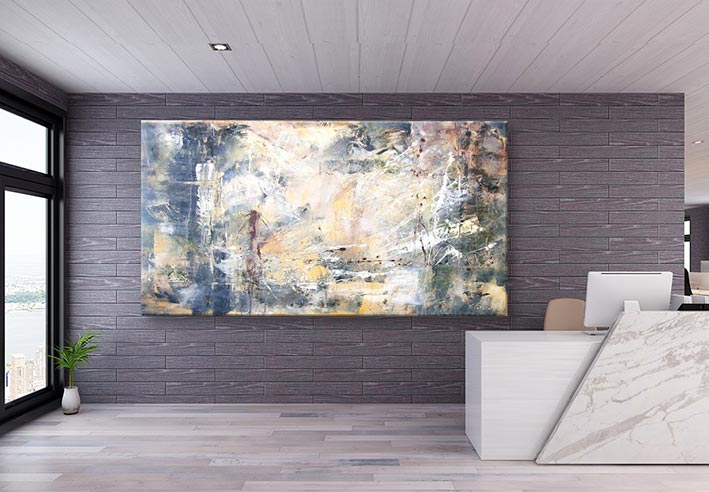 Large Original Artwork on Canvas
Our corporate custom artwork gives you the opportunity to have commissioned fine art that wonderfully fits your space and style. We'll work with you to create original art that perfectly complements your business.
The piece shown here is 96" x 48", a great example of customized canvas wall art. A large custom-made painting like this one can be created for any area, providing a dramatic centerpiece.
The piece shown is from the series "Traces of Time". The artist describes the series this way.
"This series was inspired by an aging wall in downtown Chicago. I was intrigued and captivated by the traces left on the wall, of time, weather and nature. I took dozens of photographs to study, and a new series was born. The photos are an endless supply of inspiration. Grays and browns create an incredible map of time that is rich with implied memories and history."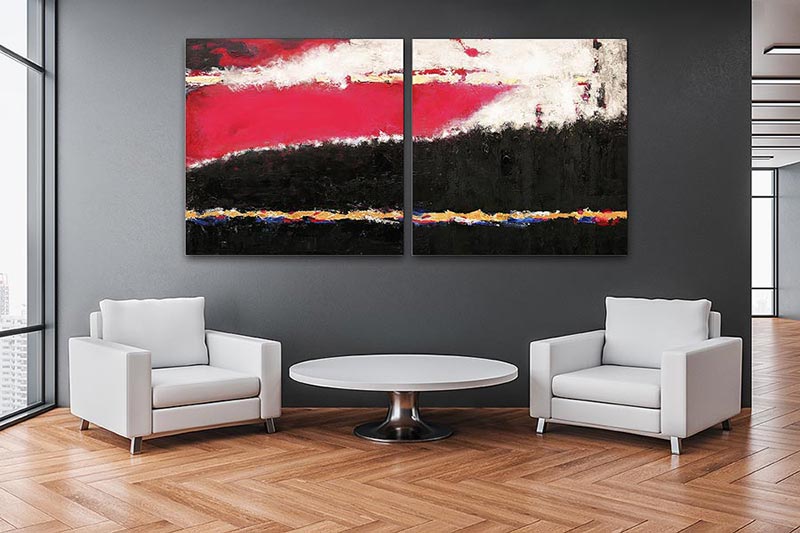 Custom-made Fine Art "Viva Magenta"
Architectural Digest lists "Viva Magenta" as a 'Color of the Year' for 2023. This dramatic 5ft. x 10ft. custom diptych painting is deeply textural and also contains gold leaf foil! It is a great example of using color, size and texture to awaken a muted space.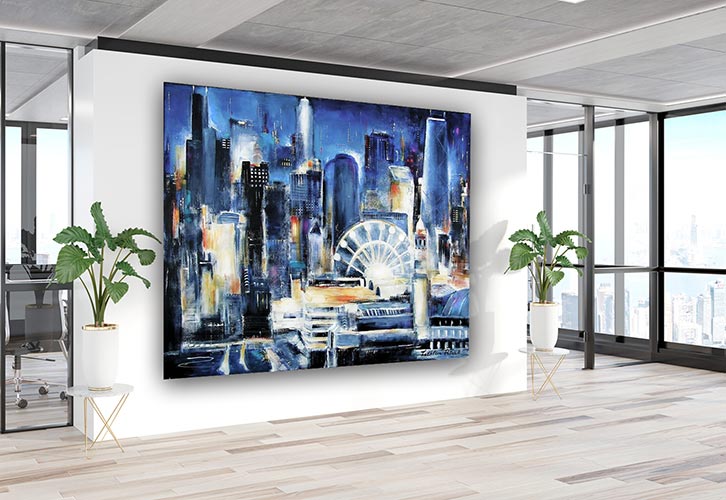 Custom Chicago Skyline Paintings
Chicago Navy Pier is one of the top destinations for tourists and Chicagoans. It's such a happy place for so many people, that it's a natural for a painting.
Have one done in your colors, particular view and favorite features to bring a positive view of Chicago to your staff and clients.
Customized Chicago Skyline Artwork
"Chicago River Tonight"

Delighted with a Chicago skyline image, but it's not the size, colors or orientation you like? Not a problem! We're happy to work with you and suggest customizations to suit your needs.

This skyline image was originally a horizontal.

"Chicago Aglow Tonight"

Add a dramatic Chicago painting to your office, lobby or reception area. It will be an amazing artwork uniquely designed for you that's sure to impress.

"Moon Over Oak Beach - Chicago"

Pull in the full beauty of a moonlit Chicago evening for your business. Order your custom cityscape painting with favorite iconic buildings and just the colors and mood you want.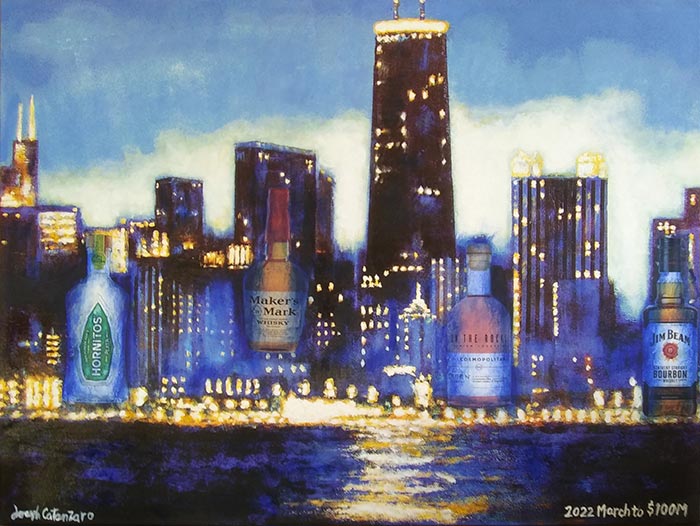 Painting commissioned by Beam Suntory.
Beam Suntory asked us for a second time, to create another original artwork to celebrate their achieving a recent goal. This piece was specially made, combining four of the company's exemplary brand-name beverages, and one of our Chicago paintings.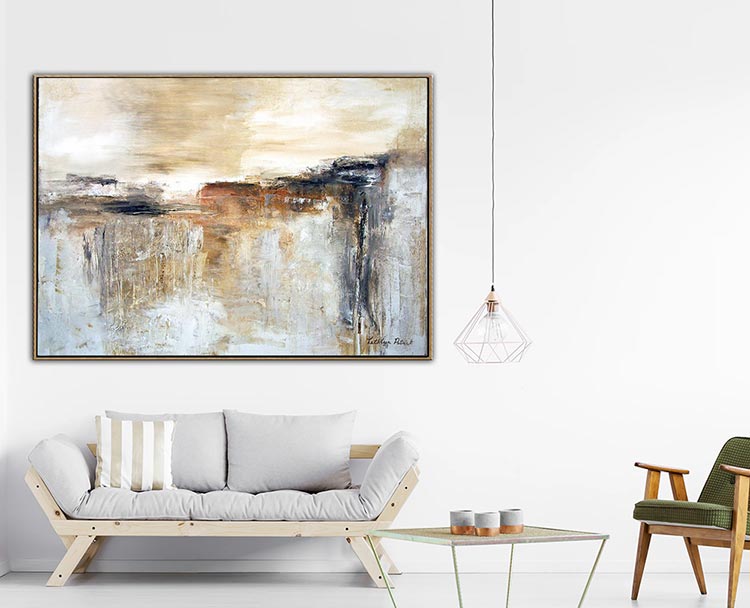 Landscape Artwork for Lobbies
This simple abstract landscape has wonderful contemporary neutral colors. It's painted in an abstract style with lots of texture.
It's a great model or starting place for a landscape for any business environment with details that you choose. Other colors? Prefer a vertical? Let's begin a conversation!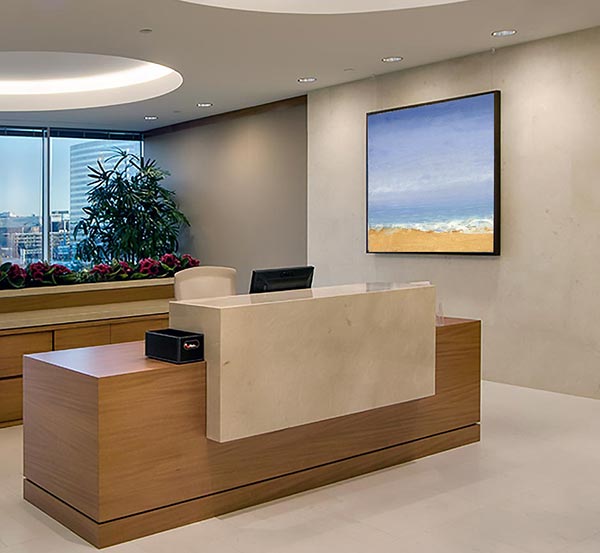 Waiting Room and Office Art
Your artwork can create a delightful mood in your waiting room. Suggesting the most beautiful day, with just a gentle breeze and the soothing sound of the waves.
Maybe you'd like to set that calm tone with a triptych or several canvases throughout the room. We can do it all for you!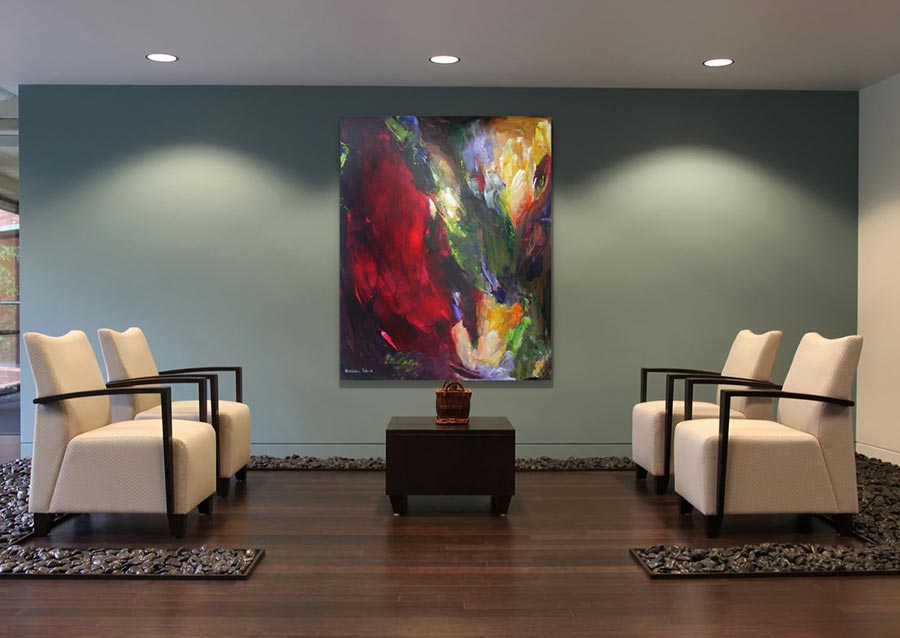 Create a modern, dynamic atmosphere in your space.
This is a very abstract glowing piece, that captures just the essence of flowers without being a floral. Add a bit of the exotic into a workplace! Colors, mood and size are wide open.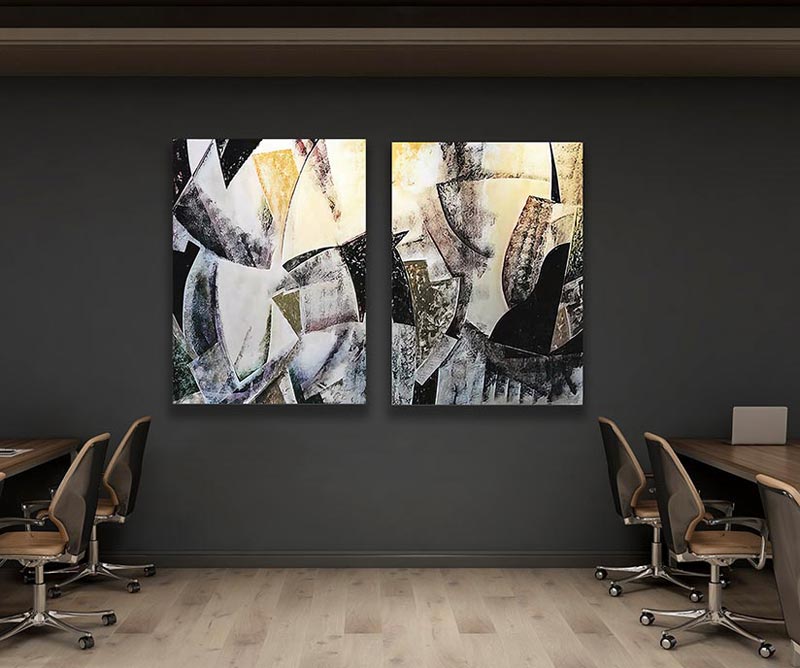 Custom Abstract Art
Abstract neutral art might be selected for this office area for many reasons.
This diptych on canvas contains both the colors of the room and echoes the shapes within the room as well. It offers a playful respite from "getting down to business". And of course, colors and size are up to the client!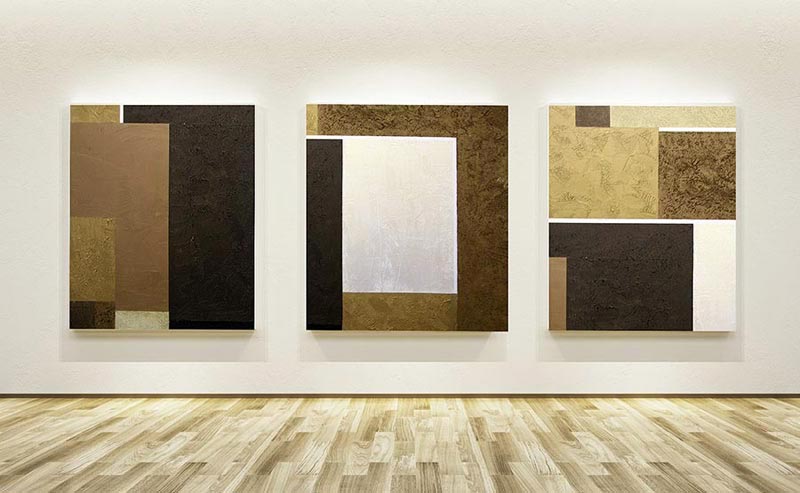 Multi-panel Wall Art
Combining rich metallic colors and deep browns and blacks, this modern abstract can offer an impressive scale and open up a small space. Or it can provide a visual focus for a large expansive entry wall.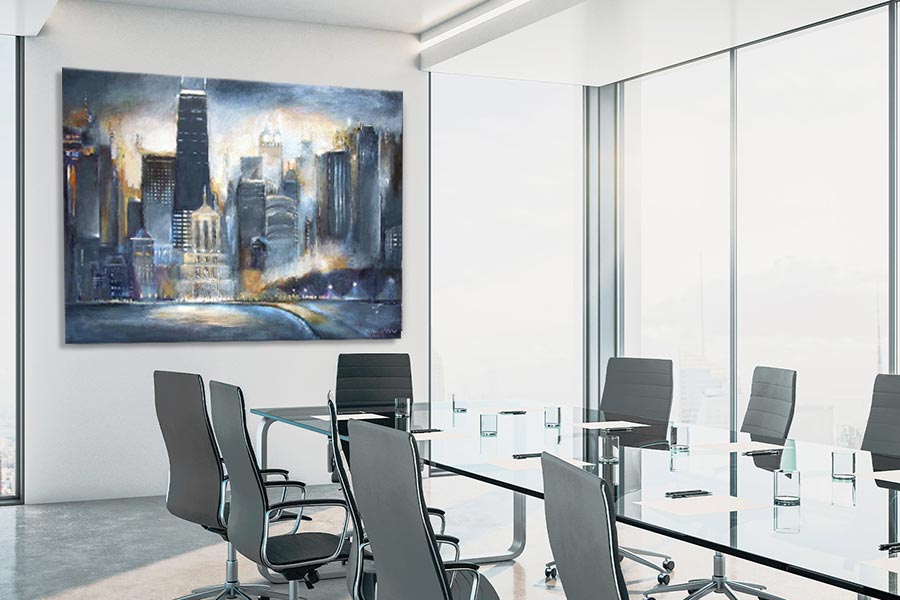 Chicago Cityscape Commissions
Bring in the Chicago skyline into your business world. You can enjoy it there and so can your staff and clients.
Shown is "Oak Beach Skyline at Sunset"
"This is one of my absolute favorite views of Chicago, and my favorite painting of that view."
A large Chicago law firm has collected over a dozen Chicago skylines.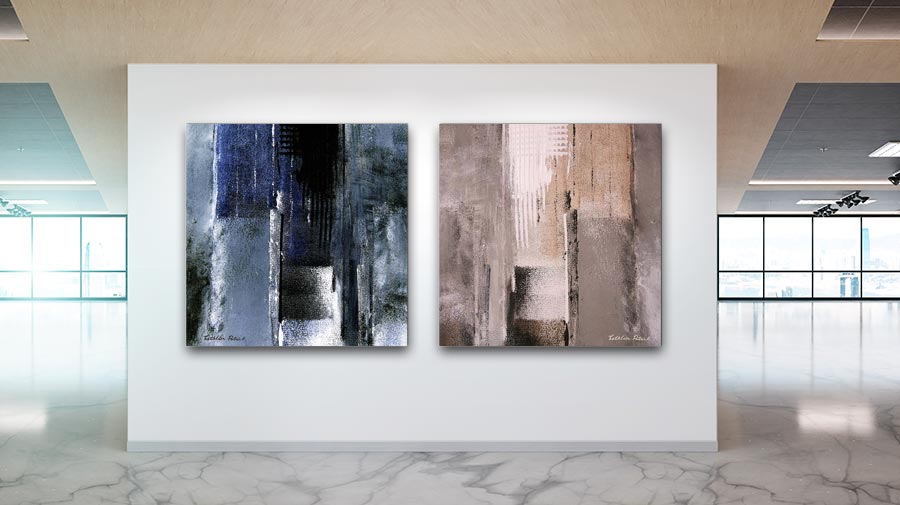 Art for Meeting Rooms, Lobbies and Hallways
We can help you to decide all through the planning stages of a custom commission.
A diptych as simple as the one shown can create a strong presence in your setting.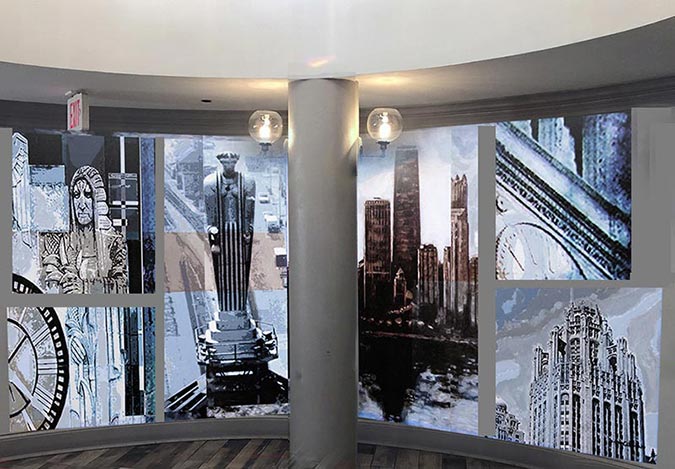 Art Wallpaper Murals
Finding large tailor-made wall art for a curved wall is especially difficult. Commissioning a painting or ordering prints may not work.
Made to order wallpaper can provide an excellent answer for a custom wall mural. And it can make a grand statement for a very minimal price.
Any of our artwork, but cities in particular are outstanding subjects for wallpaper, especially for spaces that are challenging.
The original art for this wallpaper was commissioned by a law firm that overlooks the Chicago Board of Trade.
Executive Office Artwork
Using abstract art as an unexpected visual twist in an office, can be just the way to keep yourself energized. Executive office art needn't be conventional or predictable. It can be refreshing to the eye and the mind.