Custom Chicago Skyline Paintings
Bring the beauty of the Chicago skyline into your space with a custom painting.
Order an Amazing Custom Chicago Skyline on Canvas!
"Chicago Sunset"

"Oak Beach Chicago Skyline"

"Chicago Navy Pier"
"Chicago From the Lake"

"Chicago River and Skyline"

"Chicago Skyline at Night"
6 steps to commission a painting.
1. Send us a photo, or choose a Chicago skyline image(s) from our website.
2. Choose the the size and colors. Do you want a singular canvas or more than one canvas?
3. Call 312-292-7904 or e-mail us to discuss your custom painting.
4. Once the details are determined and outlined, we can accurately provide you with a price. The deposit is 70%.
5. We'll send you an invoice for the deposit... you can pay through our website.
6. In @ 3 1/2 to 4 weeks, we will email photos to you.
Review the photos and let us know what alterations, if any, you'd like.
If alterations are made, we will send a new set of photos.
When totally satisfied, you pay the balance, and have us ship your custom art painting to you!

We have an absolute - 100% Money Back Guarantee!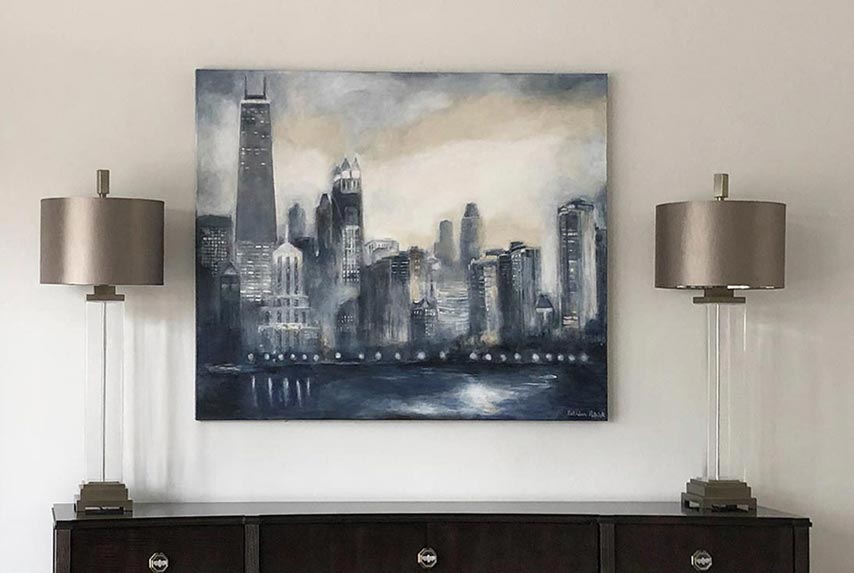 A Recent Chicago Skyline Commission
For this 48 x 60 commissioned cityscape, the painting included requested features from several of our Chicago paintings. It also included specific photos from the client. "Love it - looks amazing!" - Margie H.

You can select from our large selection of skyline paintings for inspiration. Using the pieces you like, along with your choice of size and colors, we'll create a totally unique Chicago skyline you'll love!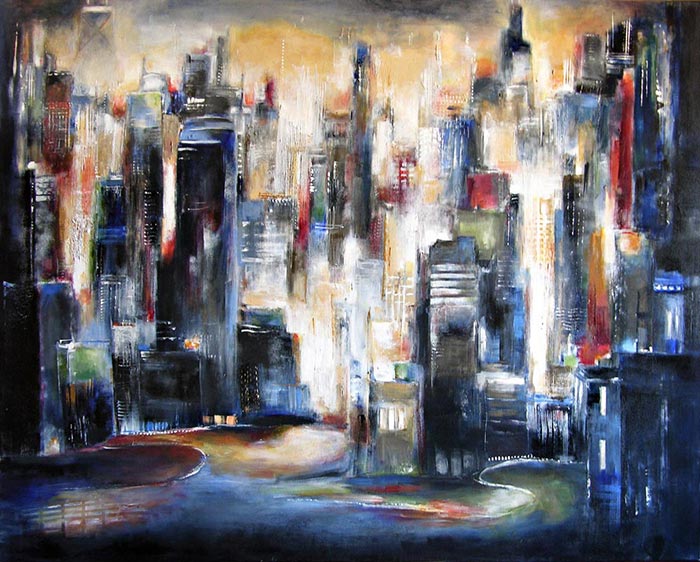 Contemporary Custom Cityscape
For this skyline, the client chose one of our Chicago skylines and provided color swatches that were matched by the artist.
"We love it! Exciting!" - Kate K.
With over 120 original paintings of Chicago, our collection has to be the largest!  Check out our collection of Chicago Skylines. Or choose any other city that you love.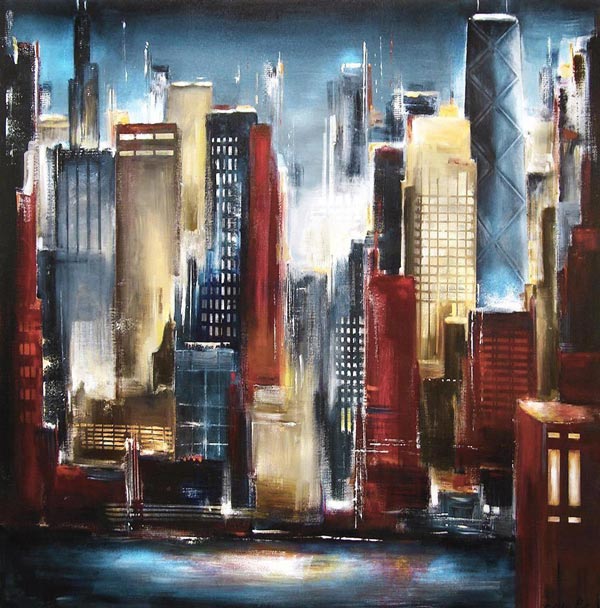 About Original Custom Paintings
Popular Sizes:
24" x 36" | 36" x 48" | 36" x 60" | 48" x 48" | 48" x 60"

We've created paintings as large as 60" x 72", 60" x 96", and 72" x 108".

Diptychs (2 canvases) and Triptychs (3 canvases) are also available.
What's the cost for a custom painting?
 Each custom painting is as different and unique as the people who order it. So we individually price each painting. 
Price depends on size and the complexity of the painting.
Pricing for Custom Paintings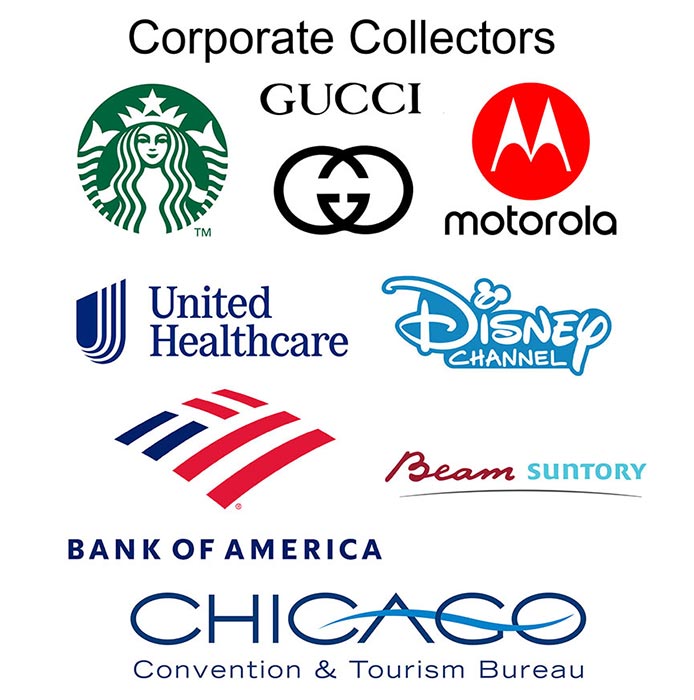 Client Reviews
"We absolutely LOVE our custom painting. The whole process was wonderful. HIGHLY recommend!"- Katherine C.

"Great experience and easy to work with. My custom art piece turned out fantastic!"- Zach A.

"Amazing! We commissioned an original landscape for our den and an enhanced reproduction of couples for our bedroom. Personable and very responsive."- Jim and Rhonda

"We have purchased two custom paintings from Kathleen and Joseph. Both are absolutely beautiful!"- Lisa L.

"I own two paintings from Chicago Skyline Art. They are both beautiful and the customer service was amazing. Highly recommend!"- Laura T.
More Reviews >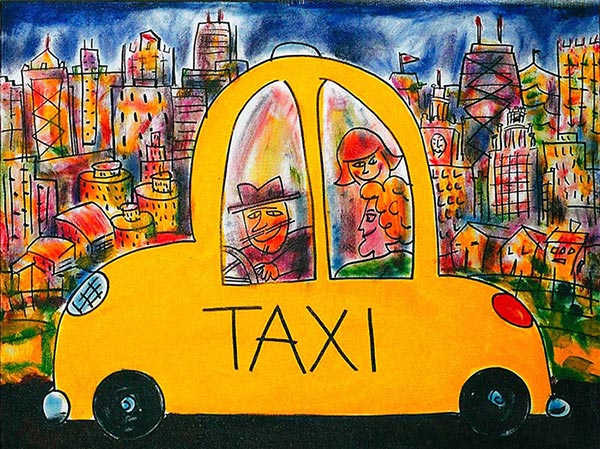 Check out these pages for more ideas: