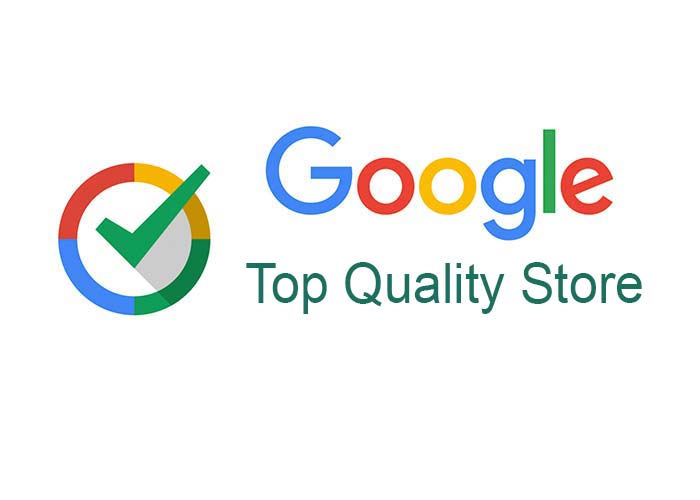 We're a "Google Top Quality Store"!
A "Google Top Quality Store" must offer fast shipping and good return policies on their website, have a high quality website, and have good user ratings.
Our Customer Reviews
   "
Absolutely stunning artist enhanced print
.
 Would definitely recommend!" - Taibah O.
   "
I recently ordered a Cubist piece of art from Chicago Skyline Art and had it shipped to Ontario Canada.
I am totally delighted with the art, and there were absolutely no issues with the shipping. Would definitely order again!" - Lise A.
-
"We absolutely LOVE our custom painting.
The whole process was wonderful. The final product turned out better than we could have imagined! HIGHLY recommend!" - Katherine C.
   "Another great custom artwork from Chicago Skyline Art! My wife loved the landscape painting. Thank you so much!" - Tim R.
 "Lovely quality piece of art, and they kindly sorted a problem with import to UK.  Ian C.
   "
Wonderful business to work with, and beautiful art!!
I would recommend them to anyone looking for that perfect piece! Shipping was quick and the packaging kept the piece very safe. Elizabeth S.
  "Taking the idea and concept of three photographs of my horses to a painted montage, was a delightful process. Kathleen interpreted my thoughts and feelings from a 20 year horse career to a memorable piece of art.
Highly recommend working with them to capture the essence of your feelings in art, for a piece you will proudly display."  Barbara S.
"Kathleen & Joseph were wonderful to work with. Had a great experience and the custom art piece of Wrigley Field for a Father's Day present turned out fantastic!" - Zach A.
"Joseph and Kathleen not only create great custom artwork, they are both wonderful and professional to deal with. My wife and I went on a journey with them to customize the story of our life together!! We could not have been more happy with the final product. We often look at the painting and realize what a great decision it was to allow Joseph and Kathleen to create this very personal and romantic masterpiece for us. We are now in the process of defining the next piece of artwork we would like for them to create for us. We are so glad our paths crossed and we found them!!!" - Scott S.
-
"We asked Kathleen to do a unique, custom Route 66 painting for us to finish off our rec room downstairs and highlight our vintage theme. The collage of items she selected matched perfectly along with the late 40's, early 50's style and colors we were looking for. As an original, we have another great piece to add to our collection from the artists at Chicago Skyline Art! Highly recommend their reasonable prices for custom commissioning!" - Tim R.
-
"I hired Chicago Skyline Art to create a custom painting for my home. I was frustrated not being able to find the style of painting and right color/size/price point I needed after looking a long time. Chicago Skyline Art made it very easy for me. I selected my style and colors and they created a gorgeous painting for my family room at a reasonable price. I would highly recommend them. I am very happy with my purchase and they were great to work with when working out all the details." - Jill C
-
"We absolutely LOVE our custom painting. The whole process of creating it was wonderful. Joseph carefully listened to our vision of what we wanted him to create. He also frequently communicated with us regarding updates on our painting. The final product turned out better than we could have imagined! We frequently get compliments on our painting which is hung prominently in our home. HIGHLY recommend Chicago Skyline Art!" - Katherine C.
-
"Joseph has made two pieces for us and we couldn't be more happy with them both!! One is a piece we saw in his studio and we had him create a modified version to fit more of our taste and for the space we were needing it for. The second painting was a custom "location themed" piece and he just nailed the whole look! It's just beautiful and captures the area and feel of the city! ❤️ Josephs prices are fair and he is great with communication during the painting process (which is huge IMO) and his talent is off the charts! Can't recommend his work and paintings enough!" - Brian & Patty .
-
"I recently commissioned Joseph Catanzaro to recreate a painting of his that had been destroyed in due to a waterline break in my home. The painting meant a great deal to my wife and I and had thought it was gone forever. Mr. Catanzaro was able to recreate the painting from an old Christmas photo that displayed the painting in the background. Mr. Catanzaro responded to my request immediately and was able to create another painting that was beautiful and equally special for my wife and I. We couldn't have been happier with the painting as well as my entire interaction with the process! I would recommend Mr. Catanzaro and Chicago Skyline Art to anyone with absolute confidence." - Tim B.
-
"We have purchased and displayed numerous quality and creative artworks by both Kathleen Patrick and Joseph Catanzaro. In our previous and current homes. The works often generate positive comments, interpretive review and discussion questions from our family and guests. Their works encompass many themes and various techniques. Their art goes well in Modern, Contemporary and Mid-Century Modern environments." - William D.
 Here's some email excerpts from our clients.
"We just hung our new painting today and it is great! Thanks so much for ending a long search for the right piece."  Dean and Chris 
"Received the print today and I am so happy! Thank you so much for working with me. It looks just wonderful!" Thanks again, 

Sha

ron 
"Thanks for the great work of art! It looks amazing." Chad and Carrie
"We love the painting!  It arrived yesterday and is just perfect.  Will send a picture soon.  Very glad to have pieces from your gallery throughout our home!   Many thanks again." Barry....Atlanta, GA
"Hi! We received the painting on Thursday and hung it yesterday. It looks great!!! Many thanks, Christos"
"Hello — I got the painting today, and I love it. It's quite a hit at the office.  Thanks." Dave...Dallas TX
"Everything turned out perfect and exceeds my expectations! Thanks to all of you." Joe G
"The custom print looks great!  I've attached this picture... before we hang it." Heidi     
   Some of our Corporate Clients: