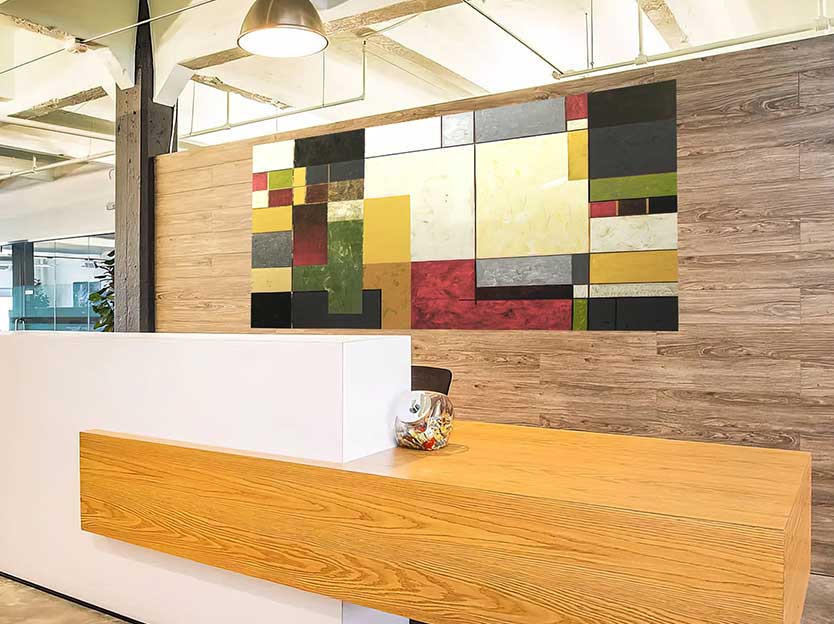 Corporate Art - Custom Artwork for Businesses
We'll create stunning artwork that will capture and engage your clients.
From custom paintings to modern prints, you can leave a lasting impression with art that's designed just for your business.
Our clients include some of the largest corporations in this country.
As professional artists and gallery owners for more than two decades, we've painted hundreds of original paintings. We have the expertise and the personal skills needed to complete your project, and exceed your expectations. That is our primary goal!
Call today! 312-292-7904.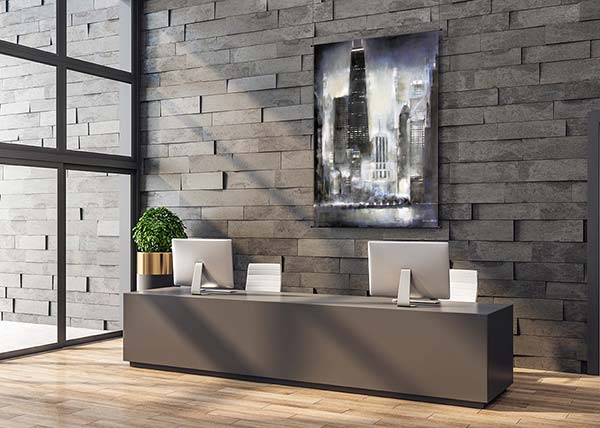 Custom paintings and limited edition prints of the Chicago skyline are a forte!
In addition to the Chicago skyline canvas or framed prints, we also offer custom Chicago paintings. They're often inspired by the skyline paintings seen on our website.
Some clients have selected several of our Chicago paintings to use as the basis for a custom-made skyline painting. Utilizing the particular images they've chosen, we've created a totally one of a kind custom Chicago artwork for their business.
Do you have photos of Chicago or a view of the skyline that you love? An affection for a particular building? These can all be used for the design of your custom Chicago skyline painting.
About the artists/owners >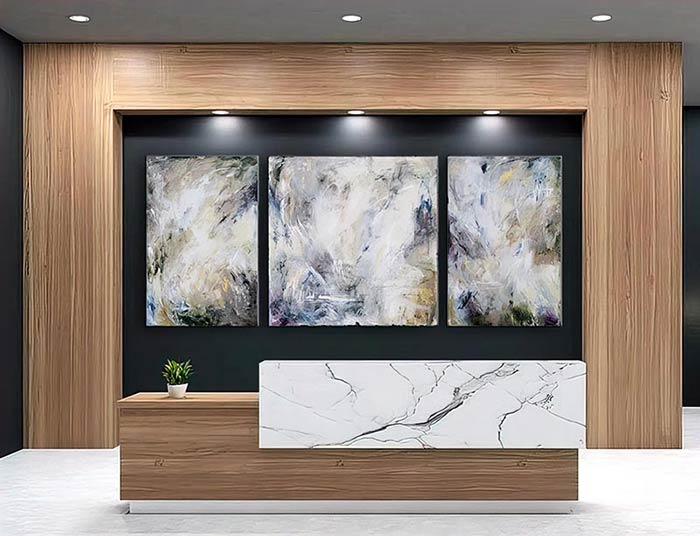 Browse the website; find ideas for customized artwork for your business.
One of the ways to get an idea for a custom painting is to go through our very large collection of prints.
You can choose from hundreds of prints in a wide variety of genres, selecting images that appeal to you.
Let the artists know your likes and dislikes. And what appeals to you!
Each commissioned painting is an absolutely singular work. It's one of a kind!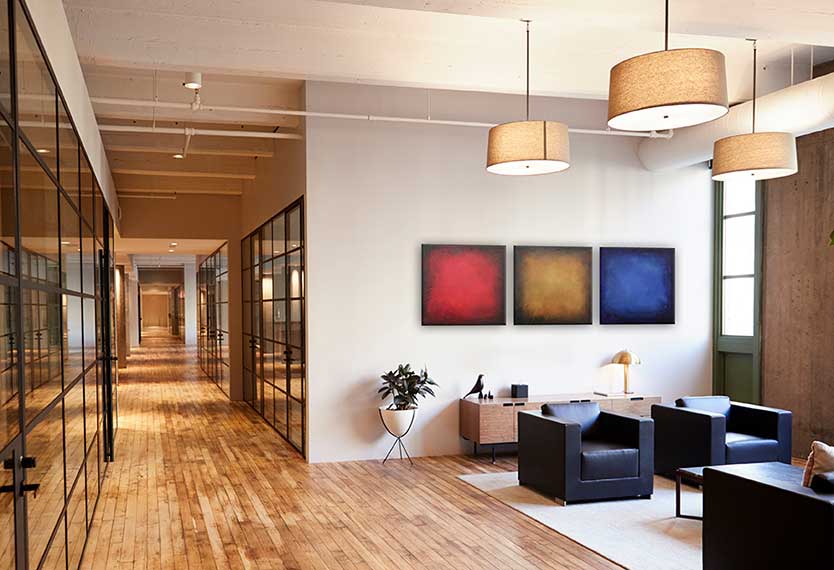 Commissioned Abstract Art Paintings
From the series entitled "The Light Within" - these textural, glowing pieces can be custom created in a vast range of colors, shapes and sizes. They can range from multiple squares or rectangles, to a large singular colored canvas. Personalized wall art with a simple design but a grand display of color and life!
You can use them to add energy, color and radiance to an otherwise quiet area.
Custom works from this series have been done for both corporate and private collections.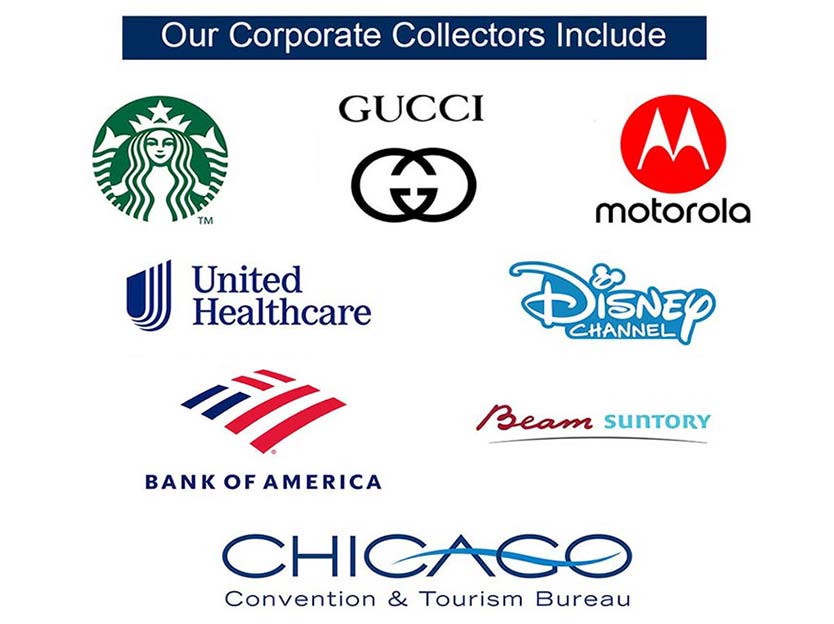 A Few Additional Corporate Art Collectors
US State Department
National Association of Realtors
University of Wisconsin
Leo Burnett Advertising
University of Illinois Healthcare
Long Beach Main Library
Dupage Children's Museum
Custom artwork takes the highest level of artistic skill and personal interaction. We have specialized in developing these skills for the past two decades!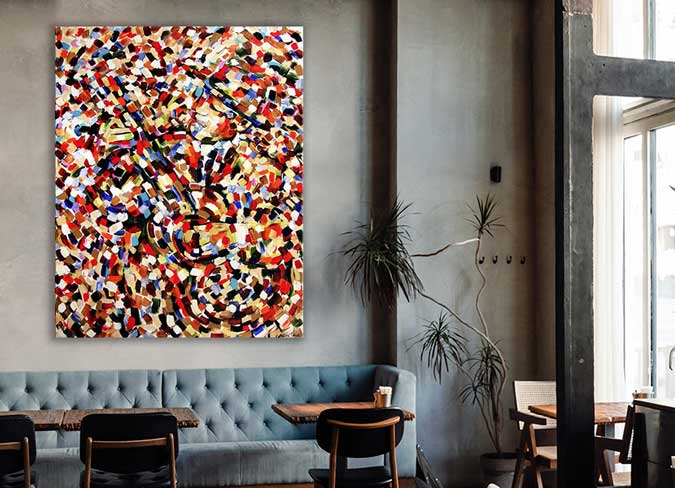 Restaurant Art - Abstract Guitarist
The right artwork for your restaurant may be second only to your menu. Have a painting custom created to capture the very essence of your culinary style. You can also purchase several prints from our collections to set an incredible mood for your diners. Our unique artwork will make your restaurant memorable!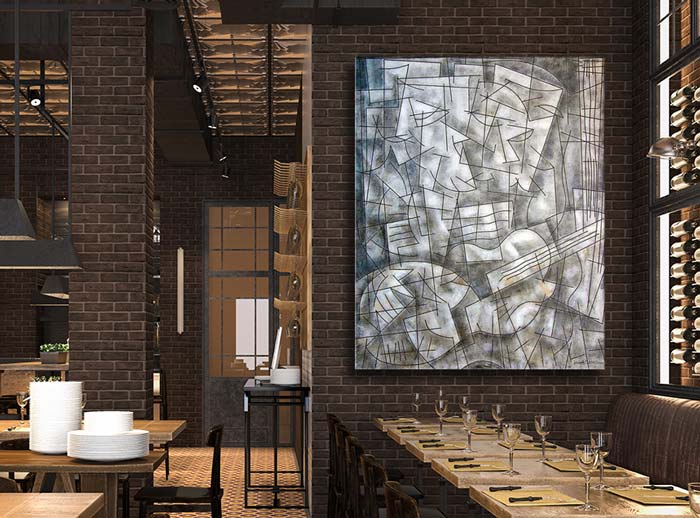 Cubist Painting for a Restaurant
Add energy and soul to the dining experience with this Pablo Picasso inspired painting! It's sure to become a conversation starter for your diners and set your restaurant apart.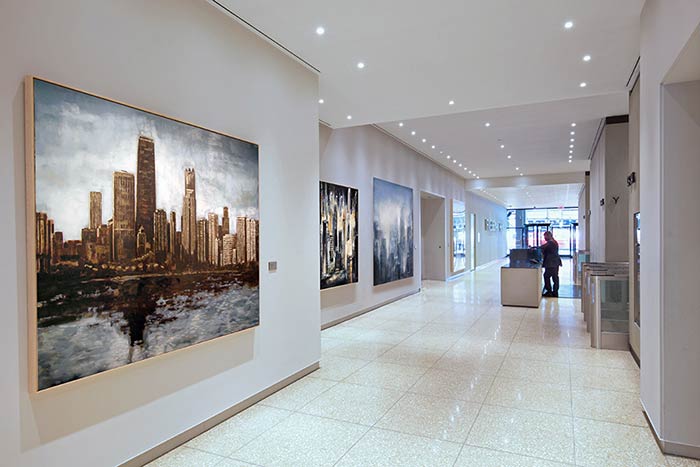 Multiple Paintings for Large Spaces
Several custom paintings may be required for large spaces. We can create a series of works that offer a cohesive theme and feel to any large area. Made to order original fine art!
Art for Airbnbs
Create a unique, interesting, engaging setting in your Airbnb! Celebrate through original artwork the global location, mood and intriguing facts about your space. For instance, a large custom painting was created specifically for an Airbnb located in the coastal jungle of Costa Rica, situated very near to the ocean.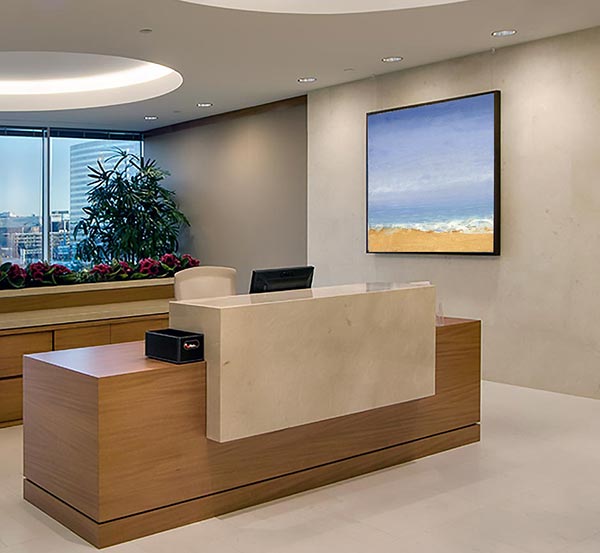 Waiting Room and Office Art
Your customized artwork can create a calm and relaxing mood in your waiting room. It might be wall art that suggests the most beautiful day, with just a gentle breeze and the soothing sound of the waves.
Our corporate design services are free. We will help you to create a warm supportive environment!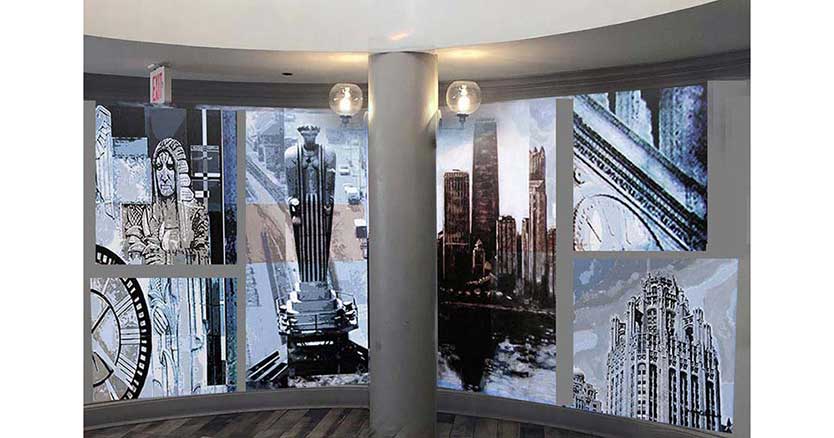 Art Wallpaper Murals
Finding large tailor-made wall art for a curved wall is especially difficult. Commissioning a painting or ordering prints may not work in all settings.
Made to order wallpaper can provide an excellent answer for a custom wall mural. And it can make a grand statement for a very minimal price.
Any of our artwork, but cities in particular, are outstanding subjects for wallpaper, especially for spaces that are challenging.
We also offer fine art prints of our paintings on metal and acrylic glass - as well as framed and matted.
See what more we offer >