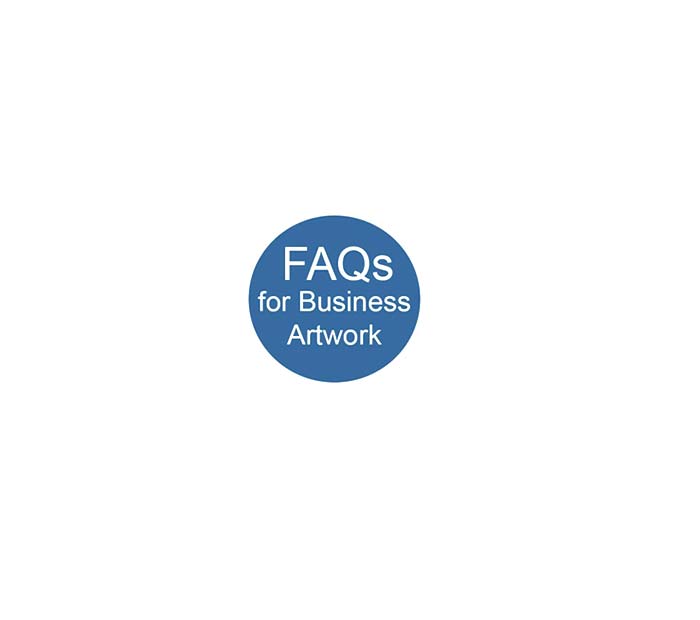 We create custom fine art that's tailored to your needs.
Our custom artwork gives you the opportunity to have a one-of-a-kind painting that perfectly fits your space and style. We'll work with you to create corporate wall art that perfectly complements your business.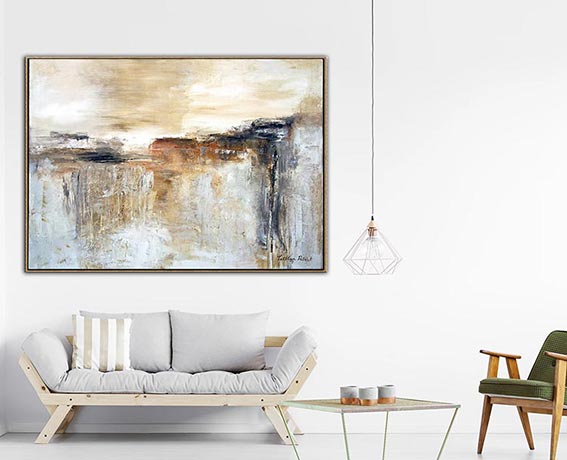 Artwork for Waiting Rooms
This landscape wall art has wonderful contemporary neutral colors. It's painted in an abstract style with lots of texture.
This painting is a great model for custom made fine art. You'll enjoy stunning artwork designed just for your setting!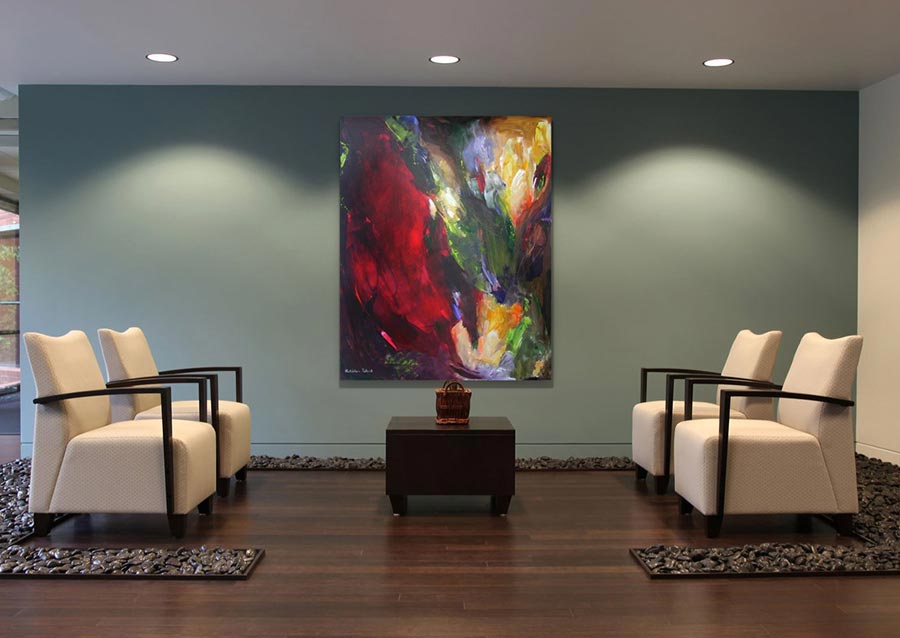 Create a modern, dynamic atmosphere in your office.
We'll design a one of a kind creation to complement your space. Drawing on two decades of experience, we can create art that will bring style and sophistication to any office or facility. Transform your business with custom made contemporary fine art!
This is a very abstract glowing piece, that captures just the essence of flowers without being a floral. Add a bit of the exotic into a workplace! Colors, mood and size are wide open.
Custom Fine Art for Offices
Prints on Metal

Made to order one of a kind metal prints - a sleek and elegant presentation for your selected image!

Limited Edition Framed Prints

Executive Office Artwork - Beautifully Matted and Framed - Large Sizes Available

Prints on Acrylic Glass

Create a contemporary look in your business with custom prints on acrylic glass.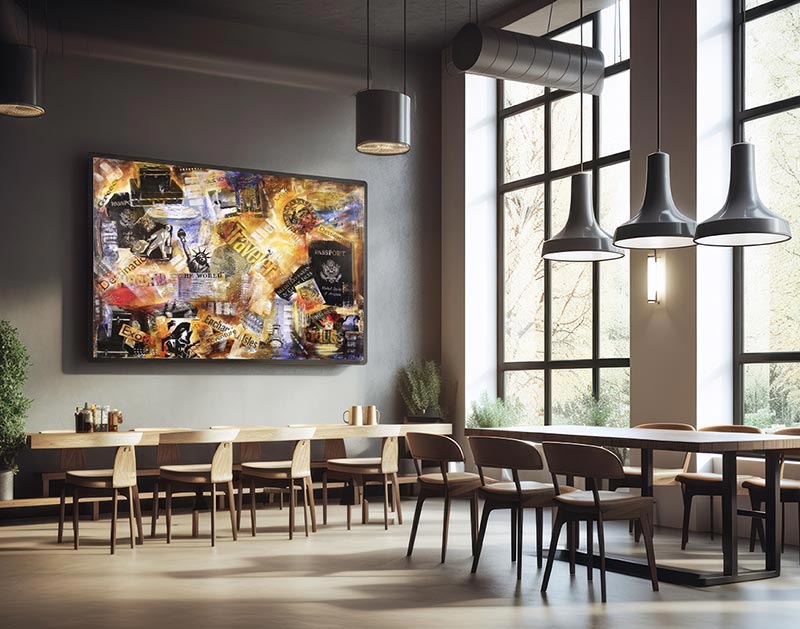 Mixed Media Travel Art Collage
Have a Custom Travel Art Collage created for your employee cafe. Remind employees of the rewards of a job well done, and create a conversation starter at the same time!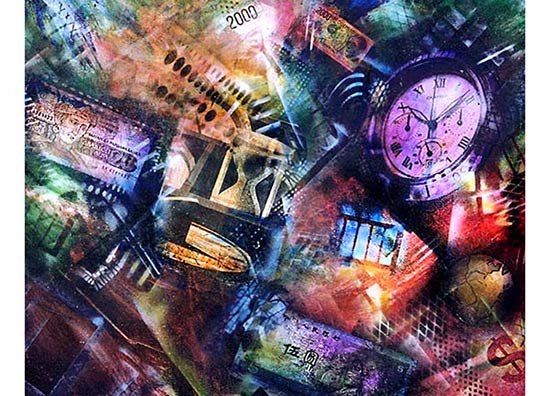 Wall Art for a Bank Commission
We offer a particularly popular style of original custom paintings for businesses - banks, medical centers, and law firms.
This style of personalized artwork is based on a theme chosen by the client. It utilizes a "collage" technique of images, using pictures or photos.
For instance, a bank commissioned 3 large paintings with images about money, time and international currency.
What ideas, images and colors would you like to see in a painting? We're here, at your service to help you - to be your personal art consultant.
Commissioned corporate art for this style often includes large multiple canvases. Photos, illustrations, and other types of images, can be provided by either the client or the artist.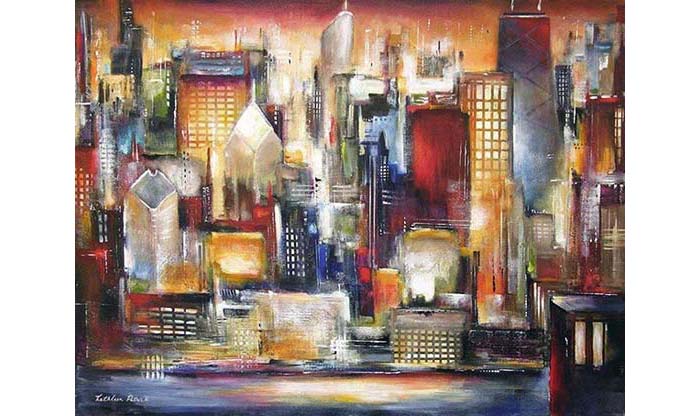 Art Licensing
We offer commecial licensing of all our painting images! This painting was licensed by the Disney channel for the series "Shake it Up Chicago".
Select from hundreds of original paintings - stunning artwork that can play a major role in generating more positive and impactful impressions.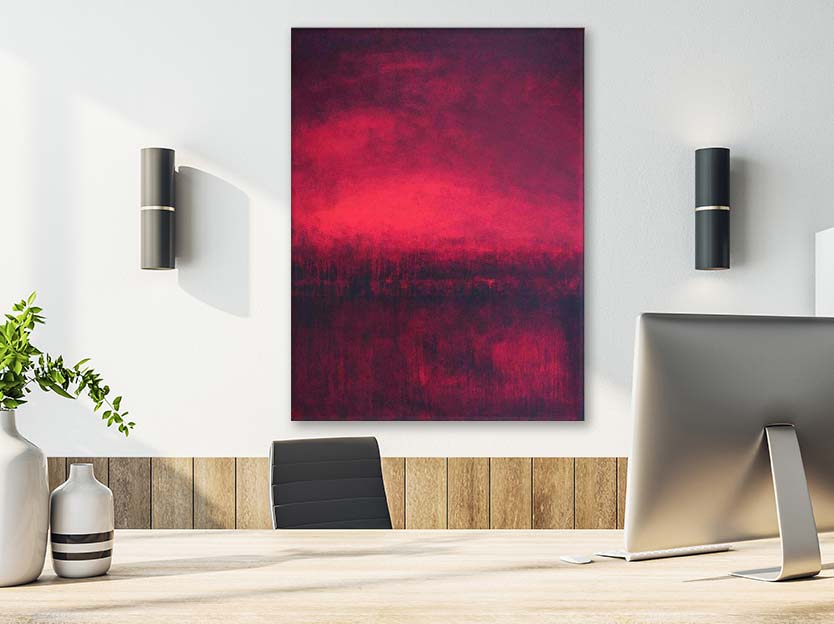 Executive Office Art
Using abstract art as an unexpected visual twist in an office, can be just the way to keep yourself energized.
Executive office art needn't be conventional or predictable. It can be refreshing to the eye and the mind.
Contemporary custom works on canvas, metal, acrylic glass or archival paper - are just some of your choices.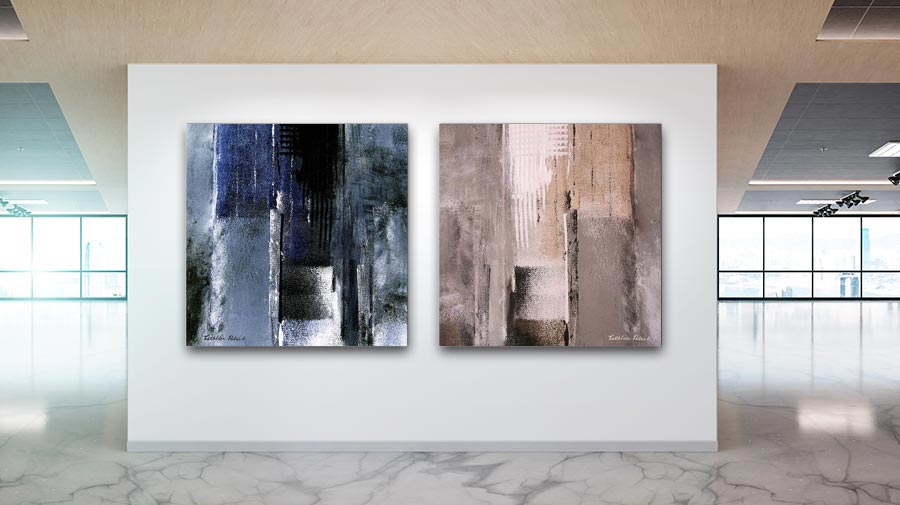 Art for Meeting Rooms, Lobbies and Hallways
We can help you to decide all through the planning stages of a custom commission.
A diptych as simple as the one shown can create a strong presence in your setting.
Original unique works of art are always your best bet!
See more custom art ideas >